Commercial Cleaning in Sutton Place, New York
Customers Value Cleanliness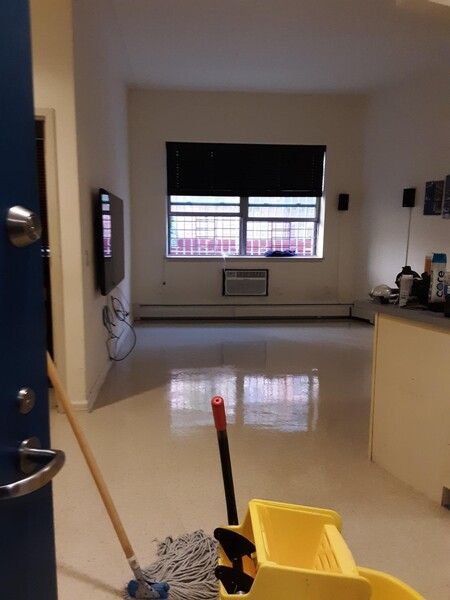 The first impression of your Sutton Place, New York business has a profound effect on its success. A clean, organized environment helps businesses run smoothly. The floors should sparkle. The restrooms should not only look and smell clean, but also be properly sanitized. All common areas, windows, countertops and walk-ways should be free from any dirt, and should be spotless. A clean office will keep your customers coming back.
Superior Sutton Place Commercial Cleaning Services
Here at Queen City Janitorial, we understand that every office building or professional facility has individual needs. That's why we customize all of our Sutton Place commercial cleaning services. Exceeding the expectations of your Sutton Place business, Queen City Janitorial takes pride in our Sutton Place commercial cleaning services, and are committed to meeting your needs. We will help your business promote a professional image and enhance the work environment for your employees by paying attention to every detail of your Sutton Place commercial building.
Office Cleaning Services
Get 20% off Recurring Cleaning Services
expires 01/31/2022
We offer a variety of Sutton Place commercial cleaning services, such as:
Office Cleaning
Janitorial Services
Floor Stripping & Waxing
Day Porter Services
Window Cleaning
Kitchen Cleaning
Restroom Cleaning
Construction Clean-up
Deep Cleaning
Vacant Buildings
And more!
Whether you're looking for daily, weekly, bi-weekly or monthly cleaning for your professional space, Queen City Janitorial will customize a schedule that works best for your customers and employees. For 7 years, our professional cleaning team has helped improve the look of many professional offices, because we are focused on providing the quality cleaning that your business deserves. Our staff is thoroughly screened and professionally trained, so you always have peace of mind knowing our Sutton Place commercial cleaning services will be truly a worry-free experience for you.
Our valued Sutton Place commercial clients range from:
Offices / Office Buildings
Banks
Educational Facilities
Property Management – Apartment / Condominium Complexes
Medical Facilities
Day Care Facilities
Fitness Centers
Retail Stores
Restaurants
Law Firms
Airports
Accounting Firms
And more! Call Queen City Janitorial today for a free commercial cleaning quote.
As a trusted Sutton Place commercial cleaner, you can count on Queen City Janitorial to handle every job quickly and professionally. We have over 7 years experience exceeding the expectations of Sutton Place businesses.
---
Call for FREE Commercial Cleaning Quote
---
WHAT CUSTOMERS ARE SAYING:
5★★★★★ - "Speedy, professional and courteous service."

True Vine Tabernacle of God

2021-04-30

5★★★★★ - "Queen City Janitorial and TEAM are probably the most customer service driven team I've met. I appreciate their prompt service, and constant guarantee to make sure it's done right. Thank you for always being available and being like family."

Kelly S., Commercial Cleaning in New York, NY

2020-10-27

5★★★★★ - "They were professional, on time, and did a wonderful job. I could not have ask for anything more."

Chad L, Commercial Cleaning in Flatiron District, NY

2020-04-24

5★★★★★ - "Wow! We needed a good cleaning for our office and I reached out to this company and I sure am glad I did! Queen City Janitorial and team were so professional and exceeded our expectations! So happy to have them coming twice a month from now on for cleaning!"

Kay O., Office Cleaning in New York, NY

2020-10-27

5★★★★★ - "The front office is very reliable with returning calls and can adjust cleaning days to our somewhat unexpected schedule. They do a great job! We are very happy customers."

Mae R., Janitorial Services in New York, NY

2020-10-27

5★★★★★ - "Absolutely exceptional! The men doing the job in my home were profound... from their professionalism to the service rendered. I cannot complain as everything was handled and executed to perfection. Thank you to Jade, Jerome, and Neal. I will use your service again in the near future!"

Michcar L. in Springfield Gardens, NY

2020-08-28

5★★★★★ - "Queen City Janitorial Services was recommended to our church for Covid19 virus disinfection. We received professional and courteous service at a good price for our church hall building and church sanctuary. We would highly recommend them and use them for future service."

Sandra M., Disinfection Services in New York, NY

2020-06-29

5★★★★★ - "Best service ever! Very responsible, committed, friendly and very professional. Highly recommended."

Millie R., Disinfection Services in New York, NY

2020-06-29

5★★★★★ - "The main pipe recently broke in the wing of the building we live in and had to be replaced on all seventeen floors. Unfortunately, we had to endure the demolition of our bedroom corner wall for weeks. The dust throughout all six rooms was in everything and the clean-up for me - a collector -- seemed overwhelming.
But alas, after interviewing several companies I was blessed because I met Neal McCloud who immediately came over (his mask turned black while visiting). He looked everywhere without missing a beat. I wanted everything and he offered more at the same price, which by then I knew was very fair.
He brought his two splendid men (I did not want more than two) and in seven days cleaned EVERYTHING, even the hopeless terrace floor.
I will call him at least once a year just to have a thorough cleaning.
He was here every day to check things out (like my mother did and she was tough).
My husband and I cannot recommend him highly enough if he's in charge.
What could easily have been hell in so many days he made nice. There was never a disagreement.
Grab him if you can. There is no one out there I'd even consider."

Anonymous in New York, NY

2020-06-11

5★★★★★ - "Rodney was courteous and did a great job! After his work, the floor of my new place is having a great new look! I really like it! Jade in the management office was also super professional and responsive. I am really happy I chose your service!"

Yan Mu in Upper West Side, NY

2020-06-08

5★★★★★ - "I used this company to clean my 2 floor office for janitorial work. They offered a Covid19 Sanitizing spray down. We have a lot of stainless steel and they used the EPA Registered products in a meticulous manner to thoroughly give it a good spray down. They came on schedule and was very professional. They gave me a discount for continuing services. I like these guys."

Mrs. Margot Levine, Janitorial Services in Flatiron District, NY

2020-05-28

5★★★★★ - "They were very polite and very professional; cleaning crew and staff included. The cleaning crew implemented a great service, showing their true experience at their craft. But at the end of the day, my floor was not looking good before and it looks great now. I would recommend them for any cleaning services needed. A+"

Derek H, Deep Cleaning in NoMad, NY

2020-05-28

5★★★★★ - "I hired Queen City Janitorial to deep clean my apartment. They were flexible with my busy schedule, efficient, thorough and professional. They left my apartment immaculately clean without a high chemical smell. Everything I asked was completed with a great level of attention. I will definitely hired them again and refer to anyone I know."

Brittney C, Janitorial Services in Midtown East, NY

2020-04-24

5★★★★★ - "I was referred to Queen City Janitorial by a friend who has a corporate relationship with them, so I decided to try them for my place. I must say that the cleaning Job was exceptional from top to bottom. They have flexible hours, they were professional and they arrived on time! I cant wait to have them back next month!"

Jade B., Deep Cleaning in Lincoln Square, NY

2020-04-24
---
Call for FREE Commercial Cleaning Quote
---